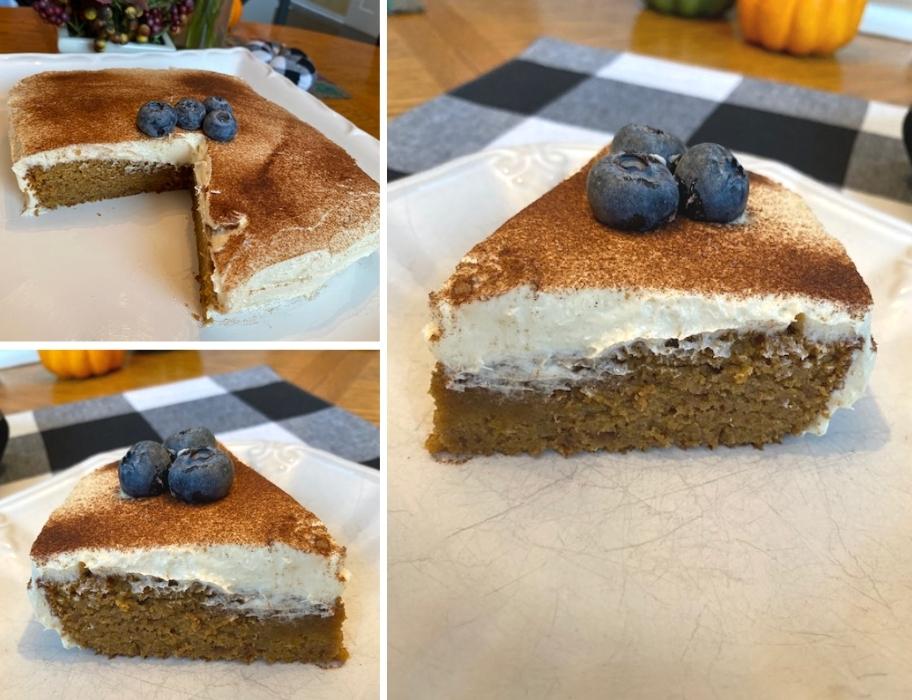 Today, we introduce a simple but delicious keto cake for any occasion! Featuring a "new-to-our-stores" keto brand: the Keto and Co Vanilla Cake and Frosting Mix, with a few additions. Nutritious pumpkin and earthy fall spices give this dessert a holiday feel. This is a quick and delicious cake that anyone will enjoy!
Serves: 9
Prep Time: 10-15 minutes
Vanilla Cake Ingredients:
1 package Keto and Co Vanilla Cake mix
4 large eggs
6 tablespoons butter, melted
½ teaspoon apple cider vinegar
½ cup pumpkin puree
1 teaspoon cinnamon
1 teaspoon pumpkin pie spice
½ teaspoon nutmeg
Buttercream Frosting Ingredients:
1 package Keto and Co Buttercream Frosting Mix
1 tablespoon lemon juice
1 ½ cup butter, softened
1 tablespoon vanilla extract
¼ teaspoon salt

Directions for Vanilla Cake:
1. Preheat the oven to 350 F and grease an 8" baking pan.
2. Combine cake mix, eggs and butter in a bowl until smooth. Let sit for 30 seconds.
3. Mix in the apple cider vinegar.
4. Spread batter into baking pan and bake until lightly brown, about 25-30 minutes.
5. Cool completely before removing from the pan.
Directions for Buttercream Frosting:
1. Combine frosting mix with 5 tbsp water in a saucepan, stir until a thick paste forms.
2. Stir over low heat until the mixture becomes smooth and bubbles form on the edges.
3. Mix in lemon juice and let it rest until the mixture is room temperature.
4. In a separate bowl, combine butter, vanilla extract and salt with an electric mixer.
5. Slowly add in the frosting mixture and whip until smooth.
6. Smooth frosting over the vanilla cake and enjoy!