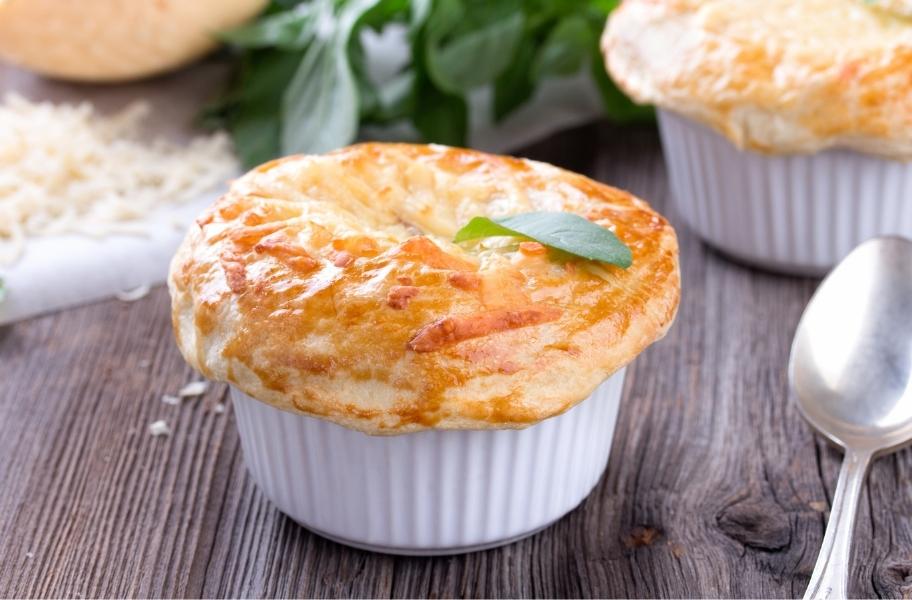 Join healthy friend Chef Kimi Karma for this filling and comforting, vegan version of a classic "Chicken" Pot Pie! Let this veggie-filled comfort food help you through the winter. For more of Kimi, she can be found on Facebook and Instagram @chefkimikarma!
(Optional) Potato Topping Ingredients:
6 gold potatoes
1 cup Mikoyo's Vegan Salted Butter
1 tablespoon soymilk or your fave milk alternative
Pot Pie Ingredients:
1 stalk celery, chopped
2 carrots, peeled & chopped
1 small onion, chopped
1/2 cup mushrooms, sliced
1/2 cup peas
1 garlic clove, minced
2 tablespoons Mikoyo's Vegan Salted Butter
2 cups Cadia Organic Vegetable Broth
1 cube Edwards & Sons Not-Chick'n Bouillon
1 tablespoon cornstarch
1/4 cup soymilk or your fave milk alternative
1 package Sweet Earth Mindful Chik'n Strips
Wholly Wholesome Pie Crust or your fave pie crust
(Optional) Potato Topping Directions:
1. Wash, clean potatoes, peel, and cut into small, 1/2 inch slices.
2. Let them boil until soft, about 20 minutes.
3. Take off stove, drain, mash, incorporate all ingredients: the seasoning, butter and soy milk!
Pot Pie Directions:
1. Preheat oven to 400° F.
2. Saute celery, carrots, onion, mushrooms, peas and garlic in Mikoyo's Vegan Butter for 1-2 minutes.
3. Add veggie broth, Chick'n bouillon, salt, pepper, cornstarch and soymilk/milk alternative in pan. Simmer for several minutes, add the "chicken". Saute for additional 5 minutes. Until sauce begins to thicken.
4. Once thickened remove from heat and pour into prepared crust.
5. Cook pot pie for 30 minutes in the oven, without mashed potato topping. Then, add optional mash potatoes to top, cook additional 15 minutes.