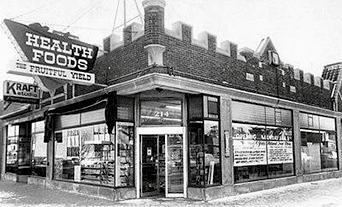 As we look back upon the 1 year anniversary of our new Elmhurst location, Fruitful Yield Direct Team Member and Fruitful Life blogger Christine McParland tells of Fruitful Yield's even earlier history.
While we've been around for over fifty years, our roots go back nearly a century! Our story began during World War I, when the U.S. Government commissioned Dr. Charles E. Fearn to develop soy products as an alternative protein source for our troops. Dr. Fearn's postwar ventures included starting the manufacturing company Fearn Soya Foods; however, soy products did not fare well on the fledgling health food market. After Dr. Fearn's passing in 1949, Paul Richard, a friend and trained pharmacist, purchased the struggling company at auction.
Health House
In the 1950s, Paul developed one of the first powdered protein supplements to hit the market: chocolate soy flour. Protein supplementation was a revolutionary concept at the time, but new research showed promising results for muscle development. Business gradually grew until Paul's passing in 1960, when his three sons inherited the business. As the eldest son and new manager of Fearn Soya, Elwood Richard wanted to learn more about the retail side of the natural products industry, opening his first "Health House" store in 1962 in Elmhurst, Illinois. Within the first decade, business had grown enough to add four more stores to the retail chain, which was renamed to Fruitful Yield in 1971.
Founding NOW
Retail experience and a highly competitive market soon revealed a need for products that were both natural and affordable. Drawing upon his degree in physical chemistry and his manufacturing experience at Fearn Soya, Elwood founded the NOW® brand of foods and supplements. The first products offered included dry milk, whole wheat flour, and Vitamin E. NOW® set an industry standard in the early stages of the natural health movement, providing products that were truly "Natural, Organic and Wholesome."
Fruitful Legacy
Though NOW® quickly outgrew its parent company, becoming a globally recognized brand, Fruitful Yield continued to grow on a more modest scale and established a reputation as Chicagoland's premier health food retailer. Today our chain includes thirteen stores across the Chicago suburbs, as well as a retail website that serves customers across the country. Fruitful Yield is known for its five-star customer service, knowledgeable staff, and quality products at affordable prices – all of which reflect our founder's original business values.
Throughout our story we have learned through both struggle and success to persevere without compromising our integrity or standards. Today, Fruitful Yield carries on a legacy of family values and service to our community, empowering others to lead healthier lifestyles naturally!