The Fruitful Yield Story
In 1962 Elwood Richard opened his first health food store in Elmhurst, IL. He knew enough about the health food industry from owning the company Fearn Soya Foods, but he wanted to avoid distributors and sell direct to the public. He also felt that retailing would be a good business to make money, while at the same time helping people become healthier. Elwood lived in Elmhurst and found a retail site in town that looked ideal. He quickly signed a lease for the store, but soon discovered that the building was one inch over the correct property line and a legal tangle ensued. Nine months later, an alternate site was chosen and the store opened on Second street downtown.
The health food movement was still very young, struggling financially and definitely not recognized as a bona fide industry. Almost no one thought that opening a health food store would be a good business idea. Elwood named his first store "Health House" and managed to sell just over $25,000 in 1964. As sales climbed quickly, additional stores were opened starting in 1969. Below are total sales and stores open:
Year Sales Locations
1968 $79,572 Elmhurst
1969 $229,596 Elmhurst, Lombard, Skokie
1970 $558,936 Elmhurst, Lombard, Skokie
1971 $727,534 Elmhurst, Lombard, Skokie, Berwyn
1972 $987,264 Elmhurst, Lombard, Skokie, Berwyn, Downers Grove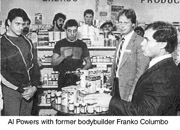 In 1972, Health House was forced to change its name due to a legal dispute about the name. Elwood and his two brothers, Lou and Bill, chose the name "Fruitful Yield" as a unique and positive description of the business. Since that time, Fruitful Yield has experienced many challenges, while growing in store size and number. Today we have thirteen stores averaging over 4,000 sq. ft. selling space and leading the suburban natural foods market. Elwood and his family remain the sole owners of Fruitful Yield and we are proud of our stores and influence on healthful living. Our stores are known for high quality standards, helpful and educated staff, wide selection of products and everyday below-retail pricing. We invite you to visit any of our stores and thank you for your support!