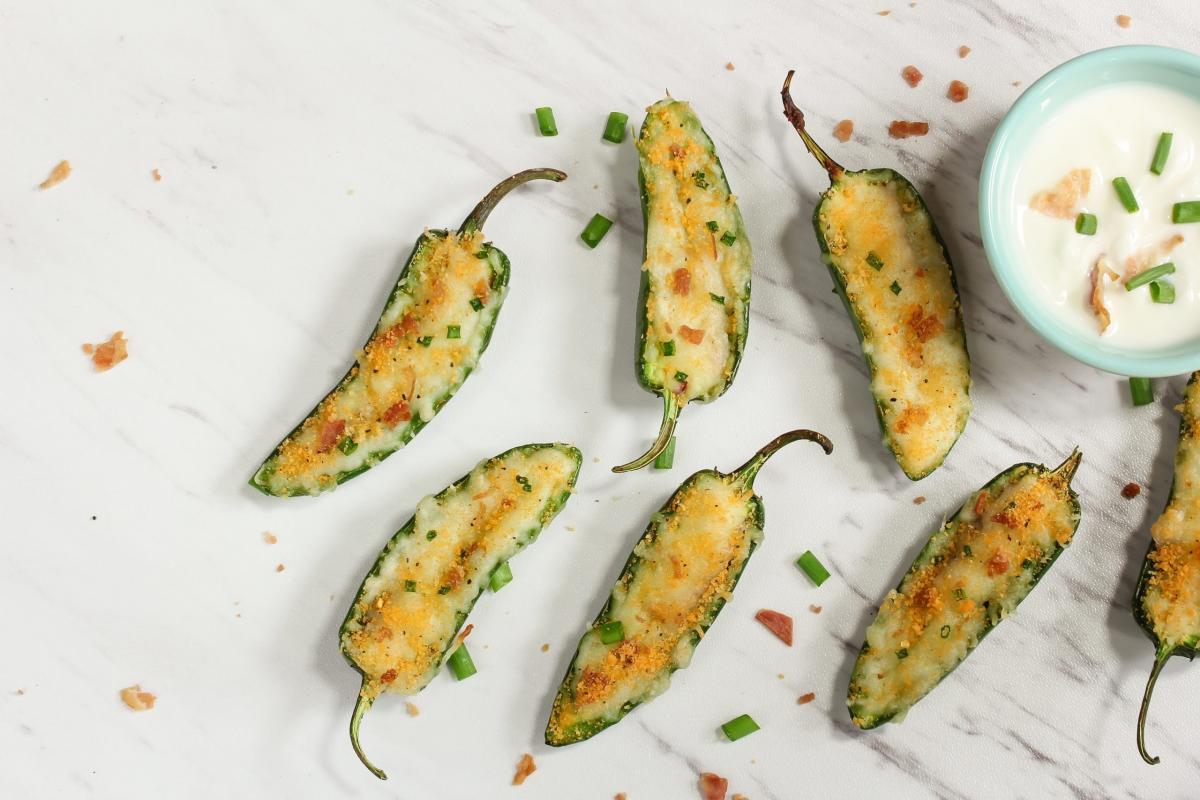 Want a spicy, savory snack? Pop them in your mouth plain, or serve alongside tortilla chips, for a crispy reprieve from the heat. This recipe was inspired by Guy Fieri's recipe on foodnetwork.com, but we tweaked it a little to make it vegan, and a touch healthier. 
Prep time: 40 minutes
Servings: 4-6
Ingredients
15 large jalapenos, halved, de-seeded and de-veined
1 tablespoon avocado oil
2 pounds defrosted Beyond Sausage
1/4 cup minced red onion
1/4 cup minced red bell pepper
1 1/2 teaspoons garlic powder
2 cups Kite Hill Plain Cream Cheese (vegan)
1/4 cup grated vegan Parmesan, plus more for garnish
Salt and pepper to taste
1/2 cup shredded vegan mozzarella or white cheddar cheese
Directions
1. Preheat oven to 350 F degrees.
2. Place jalapenos on a tray, on the middle rack and roast for 10 minutes. Remove from the oven and let cool. Turn broiler on medium.
3. Heat the oil in a medium saute pan. Add defrosted sausage and cook on high heat for 5 minutes.
4. Then small chop the sausage and add onions, peppers, and garlic and cook to soften for about 5 minutes. Remove and place in a large bowl.
5. Cool to room temperature, then add vegan Parmesan, salt and pepper. Mix well!
6. Add 1 tablespoon of mixture into each jalapeno half, and top with 1/2 teaspoon of mozzarella cheese.
7. Place the sheet tray of stuffed peppers in oven and broil until mozzarella cheese melts.
8. Serve it up with your friends, and enjoy the night!