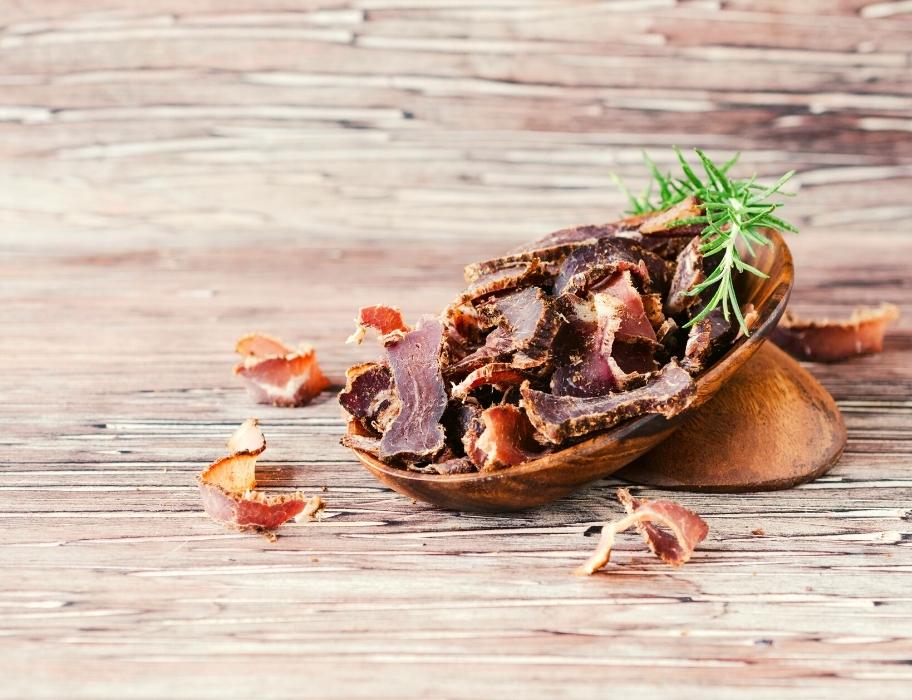 From quarantine to stress eating, we've been snacking a bit more than usual! Remember mom's rule about not bringing junk into the house? We've been working on that by planning out a few snacks for the week ahead, and only taking home ones that are healthier and reasonably portioned. Luckily, we've found some favorites that fit that criteria--at a sweet price point too!
1. Go Meatless with Primal Strips Meatless Vegan Jerky
Primal Strips are delicious, healthy, meat alternative snacks providing the positive health benefits of Soy, Seitan and Shiitake Mushrooms, all with full meaty satisfaction. Primal Strips are a favorite of protein hungry bikers, climbers, and outdoors people. Try it in Thai Peanut and Teriyaki flavors.
Price on fruitfulyield.com: $1.27*
Vegan jerky
Made with Seitan, a great source of protein and minerals
Try in salads, stir frys, burritos, or as a snack
No preservatives or artificial colors
2. Bring on the BBQ with Love, Corn
Y'all ready for some BBQ goodness? Love, Corn Smoked BBQ Crunchy Corn is smothered in smoked hickory, all done nice and slow… you just don't rush into something this good. Reach for these next time you're looking for a snack with a bite! Also available in Sea Salt and Habanero Chilli flavors. 
Price on fruitfulyield.com: $1.51*
Smoky, premium roasted corn snack
Eat as a snack or try as a salad topper
Non-GMO, gluten-free, and vegan
Single serving package makes it great to enjoy on the go
3. Get Snappy with Harvest Snaps Green Pea Snap Crisps
These little crispy guys are so addicting! Once you have a few, you'll never go back. A trio of cheeses star in these distinctively delicious green pea snack crisps. Packed with protein and fiber, these snacks will satisfy your cravings. You're looking at the Caesar flavor, but we also carry Black Pepper, Lightly Salted, and Wasabi Ranch flavors. 
Price on fruitfulyield.com: $1.99*
Baked, never fried
Farm direct peas
Gluten free
Powered by plant-based protein
4. Taste the Unique Flavors of Vermont Smoke & Cure!
Unlike your typical slim meat sticks, these guys have real, simple ingredients and better quality meat, like lean turkey, beef and pork. Forget antibiotics and hormones! Forget hidden gluten, sodium nitrate or preservatives. Instead, opt for these fascinating flavors! Unique flavors include Honey Mustard Turkey, Original Cracked Pepper Beef & Pork, and Uncured Pepperoni Turkey.
Price on fruitfulyield.com: $1.59*
Made with vegetarian fed beef, pork or lean turkey
Free of antibiotics and added hormones
Original flavor
Gluten-free
5. Add Sea Vegetables to Your Routine with SeaSnax
Seaweed is high in iodine, iron, vitamin C, antioxidants, fiber, vitamin K, vitamin B-12 and a range of other nutrients for health. And, this convenient snack size ensures that you don't go overboard with the stuff! SeaSnax is an award-winning, premium seaweed snack with sustainably grown organic seaweed, roasted to perfection with just a touch of organic extra virgin olive oil, and a pinch of sea salt. Enjoy it as a topping, or right out of the bag!
Price on fruitfulyield.com: $1.27*
Healthier alternative to chips
No artificial colors, flavors, preservatives or GMOs
Low fat, low cholesterol, and sugar free
Try adding to your favorite soup, salad, sandwich or as a pizza topping
6. Stretch Island Fruit Leather, Strawberry
Since 1976 Stretch Island Fruit Co. has been providing tasty, simple fruit snacks crafted in small batches. They put their hearts and minds into making life simpler, sweeter, and more wholesome. They believe in the power of nature to nourish us, and sometimes less is truly more! Most importantly, every Stretch Island fruit snack is oh-so-delicious; a snack that's parent AND kid approved. Simply Delicious!
Price on fruituflyield.com: $.55*
100% real fruit ingredients
0g of added sugar
No synthetic colors, artificial flavors, or preservatives
Gluten-free, vegan, non-GMO
We hope you enjoy these fun, and budget-friendly snacks! We included links in each description for you to shop online, or shop online/pick up in-store/curbside pickup. *Prices are subject to change, so hurry in!