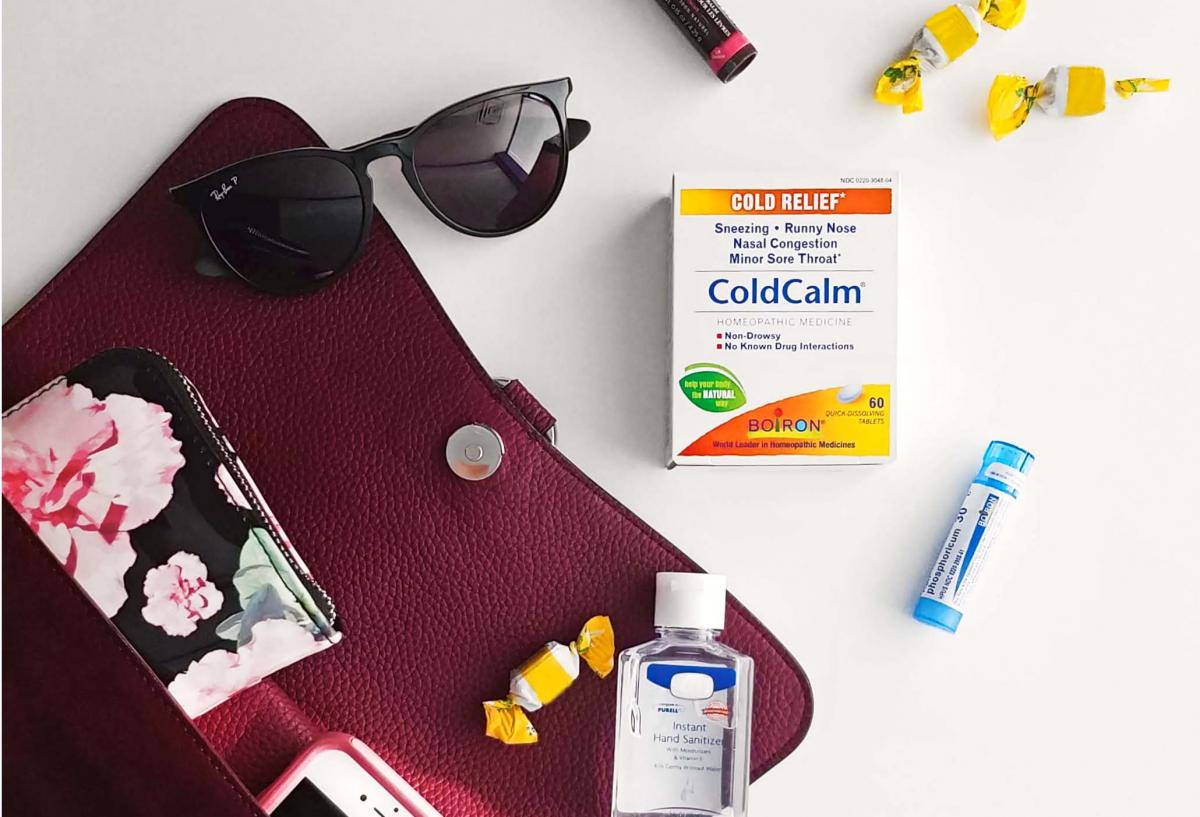 Today we welcome a guest post from one of our top homeopathic brands, Boiron®! Here they share tips and products to help you stay healthy this season.
Short of living in a bubble and avoiding any contact with family and friends, you can't escape colds or flu this time of year. But there are some simple measures you can take to keep germs at bay and your body's immune system working at peak performance.
6 Tips for Immune Health
Step Up Hand Hygiene. Viruses are spread by droplets when people infected with the flu sneeze blow their nose or wipe away secretions from their nose or eyes. Keep your hands away from your mouth, avoid rubbing your eyes, and wash your hands thoroughly several times a day, especially before meals.
Add Vitamins C and E to Diet. Foods containing these vitamins are believed to be helpful in supporting the immune system. Foods rich in vitamin E include sunflower seeds and oil, and nuts such as almonds and pine nuts. Get your daily vitamin C from foods like orange juice, citrus fruits, broccoli, and green peppers. For an extra boost, look for high-quality Vitamin C and Vitamin E supplements.
Cut Back on Sweets. Cut back on your consumption of concentrated sugar like soda or candy. Excessive sugar impairs the immune response. If you're still craving sweets, try a natural sugar substitute instead, such as stevia.
Get More ZZZs. Lack of sleep may profoundly inhibit your immune system. Get a full night's sleep to keep your body's natural defenses at optimum efficiency.
Stay Hydrated. When you are under the weather, drinking extra fluids prevents dehydration caused by fever. It also helps loosen mucus and keeps your throat moist. Warm liquids are preferable, and there is some evidence that inhaling steam early in the course of a cold or flu may reduce the spread of viruses in your upper respiratory tract.
Exercise Regularly. Not only can regular exercise lower stress, but research indicates that it can stimulate the immune system and promotes healthy sleep.  According to a study reported in Medicine and Science in Sports and Exercise, modest exercise may prevent elderly persons from getting colds and flu. (1)
4 Homeopathic Remedies
Even if you take the most meticulous precautions, you can still get hit with a nasty bug. Fortunately, there are homeopathic medicines from Boiron that can help you or a loved one get through the worst of it.
For common cold and cough symptoms, there's Chestal Cold & Cough syrup. It can be used day or night to relieve nasal and chest congestion, fitful cough, sneezing, minor sore throat, and runny or stuffy nose.* It's available as Chestal and Children's Chestal for ages 3 and up. 
Chestal Honey Cough & Chest Congestion

syrup targets all types of common coughs and is made with real honey to coat and soothe the throat. It relieves coughs due to minor throat and bronchial irritation as may occur with a cold, and helps with chest congestion by loosening mucus to make coughs more productive.* Find it as Chestal Honey and Children's Chestal Honey for ages 2 and up.

 
Use ColdCalm

 for those annoying colds. It relieves symptoms like sneezing, runny nose, nasal congestion, and minor sore throat.* It's available as ColdCalm quick-dissolving tablets, Children's ColdCalm quick-dissolving pellets for children ages 3 and up, and ColdCalm Single-Use Liquid Doses for babies and kids 6 months and up.

Oscillococcinum

 can help nip things in the bud if you start to feel fatigued or run down like the flu is coming on. Oscillococcinum has been shown to reduce the duration and severity of flu-like symptoms such as body aches, headache, fever, chills, and fatigue.** Recognized as the #1 pharmacist recommended brand, Oscillo is for everyone ages 2 and up. It's available in boxes of 6, 12, or 30 single dose tubes of quick-dissolving pellets.
To find the right homeopathic medicines for your seasonal symptoms, download the free Boiron Medicine Finder app. For more ways you can stay healthy, including recipes and tips, visit Oscillo.com/wellness.
Kostka, T., S. E. Berthouze, J-R Lacour, and M. Bonnefoy. "The Symptomatology of Upper Respiratory Tract Infections and Exercise in Elderly People." Medicine & Science in Sports & Exercise, 2000, 46-51. doi:10.1097/00005768-200001000-00008.
*Claims based on traditional homeopathic practice, not accepted medical evidence. Not FDA evaluated.
**These "Uses" have not been evaluated by the Food and Drug Administration.