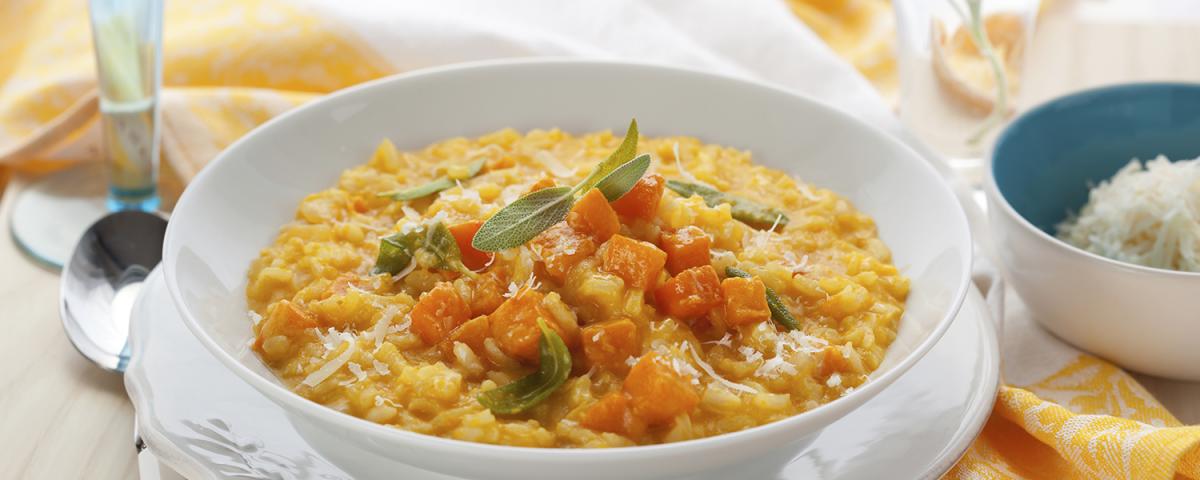 NOW Foods Chef Suzy Singh proudly presents this autumnal dish. This dish is a healthy take on classic risotto, a northern Italian dish beloved around the world for its flavor and versatility. We're using tasty, hearty quinoa instead of rice and bringing the comfort with pumpkin, rosemary, nutmeg, vanilla, cloves and more to create a dish you'll want to take your time with and truly savor.
Servings: 8
Ingredients:
9 cups water
5 cups chopped pumpkin (large chop)
2 sprigs rosemary
3/4 teaspoon of pumpkin pie spice (no sugar added)
1 tablespoon NOW Virgin Coconut Cooking Oil, Organic
1/4 cup shallots (chopped)
2 garlic cloves (finely diced)
1 cup NOW Quinoa Whole Grain, Organic
1 cup dry white wine (don't worry, this will cook out)
3 teaspoons NOW Maple Syrup, Organic Grade A Amber Color
¼ cup shaved parmesan
¼ cup microgreens (preferably Kohlrabi)
Directions:
1. In a large stock pot, place 9 cups of water with chopped pumpkin, rosemary, pumpkin pie spice, and sea salt. Allow the mixture to come to a boil, then place on low heat.
2. In a sauté pan, heat the coconut oil. Add shallots, garlic, and 1 teaspoon salt. Sauté for 2 minutes over medium heat.
3. Add quinoa and deglaze with white wine. Allow mixture to cook until only ¼ of the wine remains in the pan.
4. Slowly ladle in pumpkin stock and stir the quinoa over low heat. Continue this process for 15 minutes until the quinoa is fully cooked.
5. Stir in the maple syrup and cook for another 2 minutes on low heat.
6. Top with shaved Parmesan and serve with microgreens. Serve warm or cold and enjoy!!!