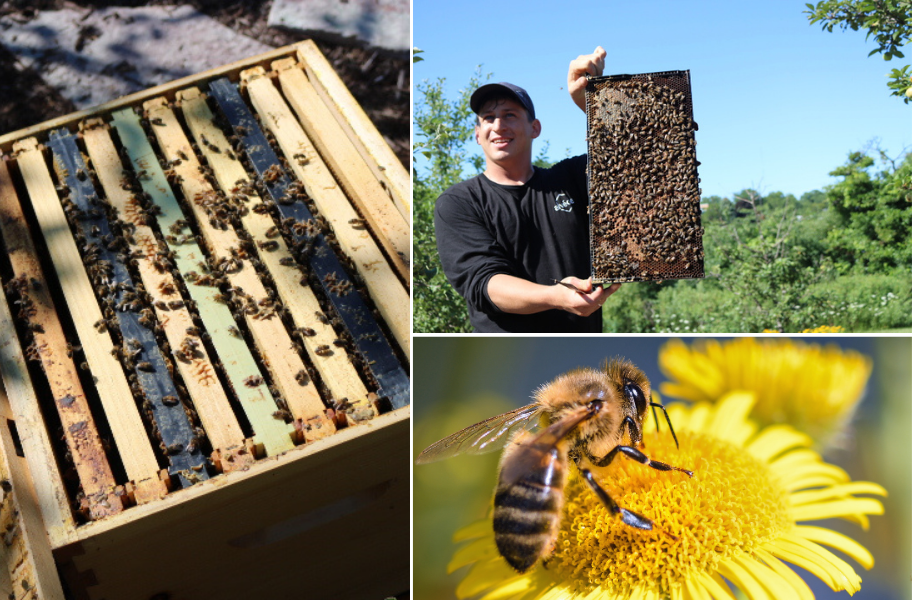 Last year, our friends at NOW Foods and we at the Fruitful Yield Support Team began learning how to better care for our local bee population. We started by adopting a hive of Italian Honey Bees through the urban beekeeping company: Alvéole. That hive now lives behind one of our office buildings, with plans for future hive adoptions in the works!
This is Alvéole's mission: "At Alvéole, we help businesses, schools, and various organizations meet their engagement and sustainability goals by bringing bees to their building. We provide both a turnkey educational service and an exceptional, meaningful experience. Our goal is to make people fall in love with bees, build ecological awareness, and in time, build more sustainable cities and food systems."
Our bee keeper, Travis, from Alvéole regularly came by to show us how he takes care of the bees. He also hosted webinars to teach us about the lives of bees, and show us how we can all make small changes in our own yards to benefit the local wild bee population. A few tips include:
Not mulching your yard in order to give bees places to burrow into.
Avoiding lawn chemicals, by opting for bee-friendly natural lawn solutions.
And, planting native, flowering plants and trees that bees love! 
For more quick tips on how to save the bees, check out this helpful article from The Bee Conservancy!
Bees are important because they help pollinate our food crops by buzzing from flower to flower. According to the FDA's Helping Agriculture's Helpful Honey Bees, "Today, the commercial production of more than 90 crops relies on bee pollination... About one-third of the food eaten by Americans comes from crops pollinated by honey bees, including apples, melons, cranberries, pumpkins, squash, broccoli, and almonds, to name just a few. Without the industrious honey bee, American dinner plates would look quite bare." Basically, bees pollination helps plants produce seeds, so we can eventually grow another plant. We enjoy these foods helped by bees, so in helping the bees we are helping ourselves.
This winter, we insulated and closed our hive for the season. At that time, our bees went into hibernation mode. During hibernation, they huddle around their queen and vibrate to produce warmth to help them survive long winters. Now, our hive has opened again, so our little yellow friends can get back to what they love: pollinating local plant life and producing honey! While we can't produce enough honey to sell at our stores, note that we do support local bees and their keepers by carrying Bron's Bee Company of Heritage Prairie Farm in Elburn, IL and Y.S. Eco Bee Farms' Raw Honey of Sheridan, IL. 
We're are learning new ways to care for the bees with each passing season spent with our office's backyard hive. We hope you'll continue along this journey with us. Let us know in the comments below if you'd like to see us post more hive updates on Fruitful Yield's Facebook/Instagram Stories!