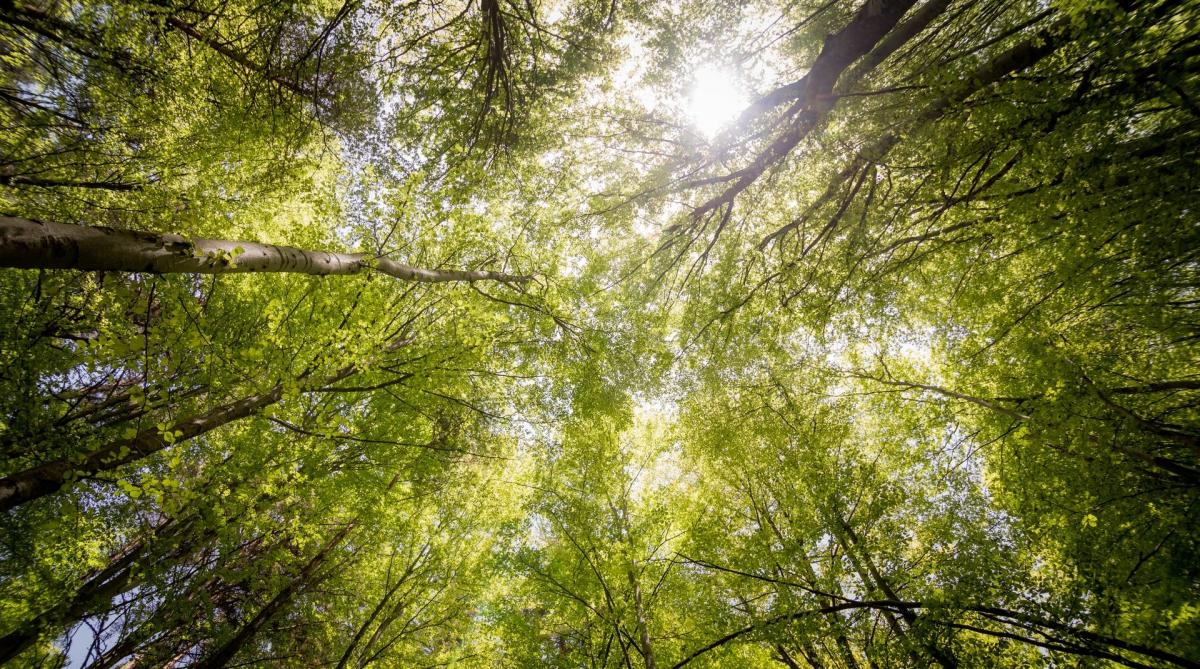 Happy National Trails Day! To help you find your peaceful place, we listed over 13 green spaces to hike or meditate. Each space listed is conveniently located 5 - 15 minutes from each of our store locations.
As much as we focus on the dietary and exercise aspects of health, mental health is important and can even affect the physical body. Luckily, we can boost our spirits and clear our minds when immersed in nature. We at Fruitful Yield encourage you to get outside today. Pop out those ear buds! Bring water, a snack, and a friend. Take a walk or meditate, but whatever you do don't stress - you're in nature now.
Batavia
If you shop at Fruitful Yield Batavia, you'll find it's located near the Red Oak Nature Center off Fox Valley River. The center hosts activities for the whole family. Its hiking trails are easy and short enough for parents and kids to walk together, and even has a cave for exploring! Take pics and let us know how it goes.
Oswego
Southwards at our Oswego store, guests can head to Violet Patch Park. Like our last green space, Violet Patch Park is also alongside the Fox Valley River. Allow the sound of the water to soothe your spirits. Also, you can check out the Waubonsie Trail head, link up to the Fox River Trail, or even take a canoe for a trip down stream!
Darien
If you live and shop in Darien, you probably know about the Waterfall Glen Forest Preserve. The preserve boasts a sprawling 2,503 acres and 11 miles of trails tracing gentle slopes to hilly terrain. Probably our favorite on this list, we highly recommend this spot for waterfalls, bio-diversity, limestone, and beautiful sweeping views.
Joliet
Dog lovers and BMX riders alike love Van Horn Woods in Plainfield - only 6 minutes from our Joliet Fruitful Yield. Along with the dog park and BMX slopes, the park also boasts peaceful docks for fishing, paths to soccer fields, and brick bathroom buildings (because nobody likes port-a-potties).
La Grange Park
For those who shop at our La Grange Fruitful Yield, you'll be delighted to know that Salt Creek runs through a few different sections of woods, including Salt Creek Woods and Bemis Woods. Bemis Woods itself has a leisurely 1 mile hiking loop.
Elmwood Park
Got kids? After picking up groceries from Fruitful Yield in Elmwood Park, be sure to stop by Lindberg Park. There, you'll find a baseball diamond, small play ground, and pretty flowers. Sit in peace as the kids let off steam in the fields.
For a deeper nature experience, check out Thatcher Woods: 245 acres of land for nature exploration and bird watching. Thatcher Woods is also filled with over 250 native plant species, according to Forest Preserves of Cook County.
Elmhurst
Elmhurstians know that Berens Park is full of things to do! If you're sporty, there's amenities for baseball, tennis, basketball, volleyball, and even sledding in the winter! Bring younger kids in the summer for the dry playground or the water-spray playground. The park also includes a path for running.
Fox Valley and Naperville
From our Fox Valley and Naperville locations, you're 15 minutes away from Blackwell Forest Preserve. Rent a canoe out on the pond, ride your bike through the woods, or hike any of the trails. You can even hike up the old, grass-covered landfill. It leads to a surprisingly beautiful view, especially around sunset. Our Naperville location on Naper Blvd is also very close to the beloved Morton Arboretum, home of an extensive collection of trees - though, they do change admission!
Lombard
Lombard is known for its Lilac Parks, but have you ever been to Churchill Woods? A peaceful getaway off Geneva road, Churchill Woods offers trails, large sweeping trees, water ways, and picnic tables. Even if you have half an hour of freedom, make sure you take this opportunity to treat yourself and wind down.
Bloomingdale
Our Bloomingdale store may seem like it's far from nature, but don't be fooled! Mallard Lake provides walkways, tall grasses, wetlands, a lake view, and docks for fishing. Plus in Hanover Park, it's only a hop skip and a jump away from our Bloomingdale Store.
Schaumburg
If you're native to the area and frequent our Schaumburg store, make sure to stop by Busse Woods afterwards. Beautiful, towering trees provide shade on the pathways. You may have been here before, as this location is known to host the occassional 5k. If you explore long enough, you might even find the fenced-in elk pasture, where elk happily to roam and graze.
South Elgin
On your way back from Fruitful Yield South Elgin, take a moment to relax at Otter Creek Forest Preserve. This preserve contains prairie, woodland, wetlands, and paths that lead through all 3.
Don't let stress get the best of you. Get out and take advantage of this day!