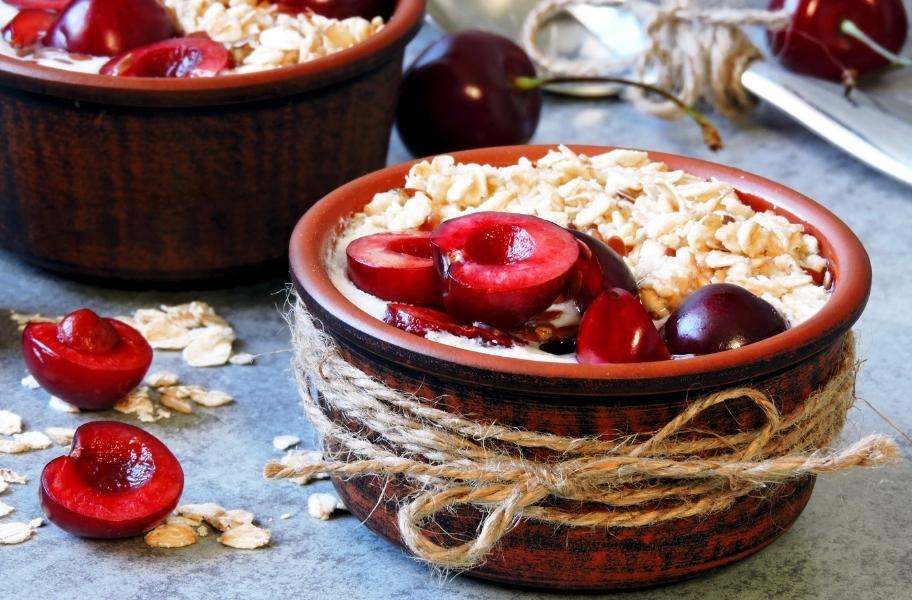 Welcome to the month of February: Heart Health Month! Great ingredients for promoting heart heath include: oats, walnuts, and Ceylon Cinnamon. (Think of Ceylon Cinnamon as Cassia's healthier cousin.) Conversely, we avoided artificial sweeteners, and other heavily-processed ingredients, which are "dont's" for heart health! Rich dried cherries make this recipe tasty, and festive for February--and a great Valentine's breakfast surprise. ☻
Prep Time: 20 minutes
Servings: 2
Ingredients:
2 cups water
a pinch of salt
1/2 cup NOW Steel Cut Oats, Organic
3 tablespoons Brownwood Acres Montgomery Dried Cherries (available in-stores)
1 1/2 tablespoons NOW Dark Brown Sugar, Organic -- or less, for better heart health
a pat of butter or vegan butter
a dash of Ceylon Cinnamon
a handful of NOW Walnuts, Raw & Unsalted to top
Fresh cherries to top -- like seen in picture, optional
Directions:
1. Add water and a pinch of salt to a small-medium pot on the stove. Bring to a boil.
2. Then, reduce heat to medium-low. Add oats, dried cherries, brown sugar, butter/vegan butter, and cinnamon.
3. Cook for 16 minutes, stirring occasionally.
4. Allow to cool for a couple minutes, and top with walnuts, and/or beautiful, fresh cherries! Serve hot!