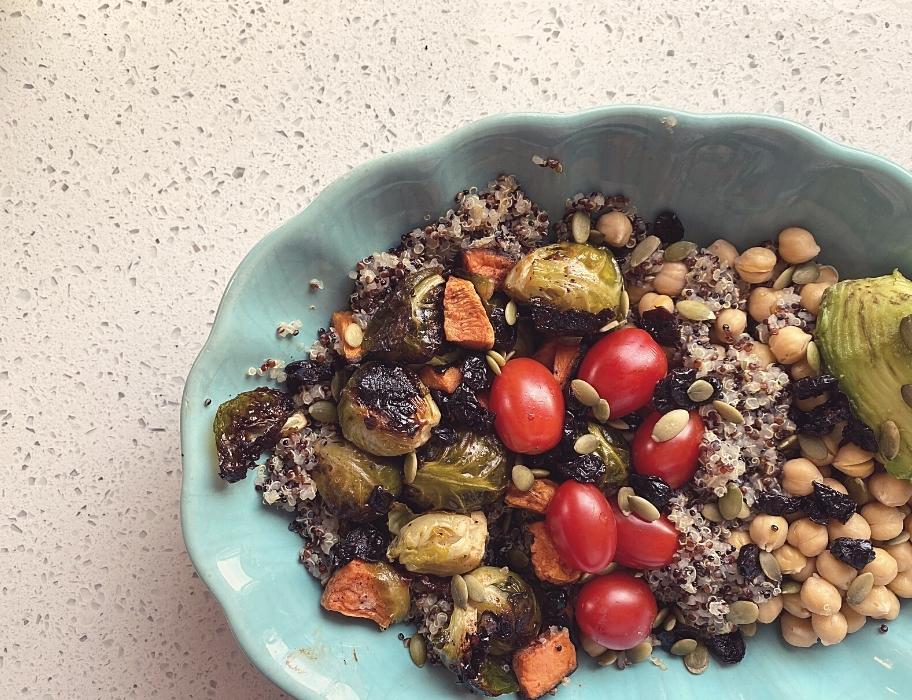 Join FY Product Specialist & kitchen savant, Florinda, to learn how to make your own "Fall in Love Superfood Bowl"! This savory bowl is filling, full of healthy fiber, autumnal veggies, vitamins and minerals.
Love this recipe? Check out Florinda's video tutorial to help you get started!
Ingredients:
1 cup Cadia Organic Tri-Color Quinoa
2 teaspoons Ellyndale Extra Virgin Olive Oil
1 1/2 teaspoons Field Day Balsamic Vinegar
1 tablespoon Some Honey Cranberry Honey
1 tablespoon NOW Maple Syrup, Organic Grade A
1 cup brussels sprouts
1 cup Cadia Organic Garbanzo Beans
½ cup chopped sweet potatoes
1 avocado
4-5 cherry tomatoes
2 teaspoons salt and pepper
¼ cup dried cranberries
¼ cup NOW Pumpkin Seeds, Raw Organic
Directions:
1. Heat oven to 450 degrees F. 
2. Cook 2 servings of quinoa according to package instructions.
3. For glaze, in a small mixing bowl combine extra virgin olive oil, balsamic vinegar, honey and maple syrup. Use a fork or small whisk to combine.
4. Spread brussels sprouts and sweet potatoes out on a baking pan. Pour over glaze, and use hands to coat the veggies. Top with a sprinkle of salt and pepper.
5. Bake for 45-60 minutes, until soft and browned.
6. Time to plate! In a serving bowl, place a bed of cooked quinoa in your bowl. Place brussels sprouts on one side. Then, cut and place half an avocado next to the 'sprouts. Next, add garbanzo beans next to the 'sprouts. Finally, artistically place additional toppings.
Was this recipe enough to make you "fall in love" with grain bowls? Be sure to snap a pic and tag us @fruitfulyield. Also, visit us in-store for Florinda's fall ingredients and more!