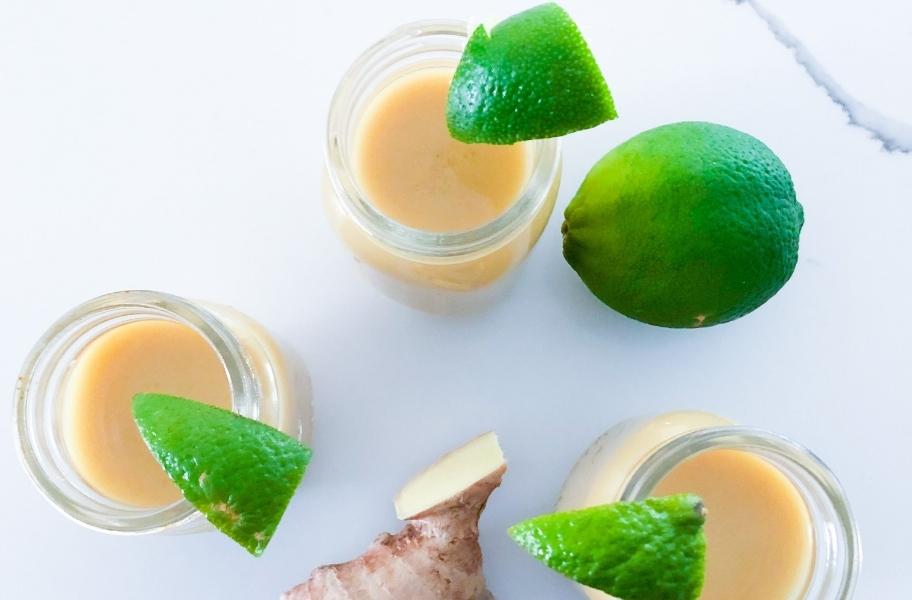 Today, Dr. Mia Iyer  (Instagram @onthewellbydrmia) joins The Fruitful Life Blog to share a very special recipe of hers. She is not only Chicagoland-local and a healthy friend to the Fruitful Yield, but she is a Chiropractic Doctor, who also holds a bachelor's in biomedical sciences & biotechnology. She is passionate about holistic health and sharing those lifestyle habits--such as yoga, nutritional support, acupuncture and more! Without further ado, here's one of her favorite detoxing drinks, to help you kick off this New Year in style!
Feeling a little bloated? Bloating is quite common especially right after the holidays when the consumption of indulgent foods goes up! This ginger tonic is a delicious and perfect way to wave goodbye to tummy troubles. Ginger is a food known for its anti-inflammatory properties, and contains high levels of antioxidants that help reduce free-radical stress in the body. Research also shows that it helps ease stomach discomfort. It is loaded with nutrients and bio actives which exerts a multifaceted effect in the body!
Prep time: 5 minutes
Servings: 2 cups
Ingredients:
2 thumb-sized pieces of ginger
2 tablespoons cumin seeds
2 tablespoons coriander seeds
Juice of 1 fresh lime
2 tablespoons of organic honey
2 cups of water

Directions:
1. In a high speed blender, blend ginger, cumin seeds and coriander seeds with 1 cup water.
2. Add the second cup of water and blend again.
3. Using a strainer, strain the ginger and spice mix to remove all the pulp.
4. Set the ginger concentrate aside to allow for any remaining ginger pulp to settle.
5. Strain again!
6. Add the lime juice and honey and mix it thoroughly!
7. Pour into little mason jars or shot glasses and ENJOY!
This ginger jamu recipe is an easy one to make! It can be enjoyed cold or warm, and keeps well in the fridge in an airtight, glass container for 3 to 4 days. No cumin seeds? You can try using cumin powder! No coriander seeds? You can skip it! Or substitute with a ½ tsp of turmeric and black pepper. No honey? You can use maple syrup instead!
We hope you enjoy this detoxing, tummy-soothing drink from Dr. Mia! To follow her journey as a doctor and learn some new holistic healing methods, you can find her on Instagram @onthewellbydrmia