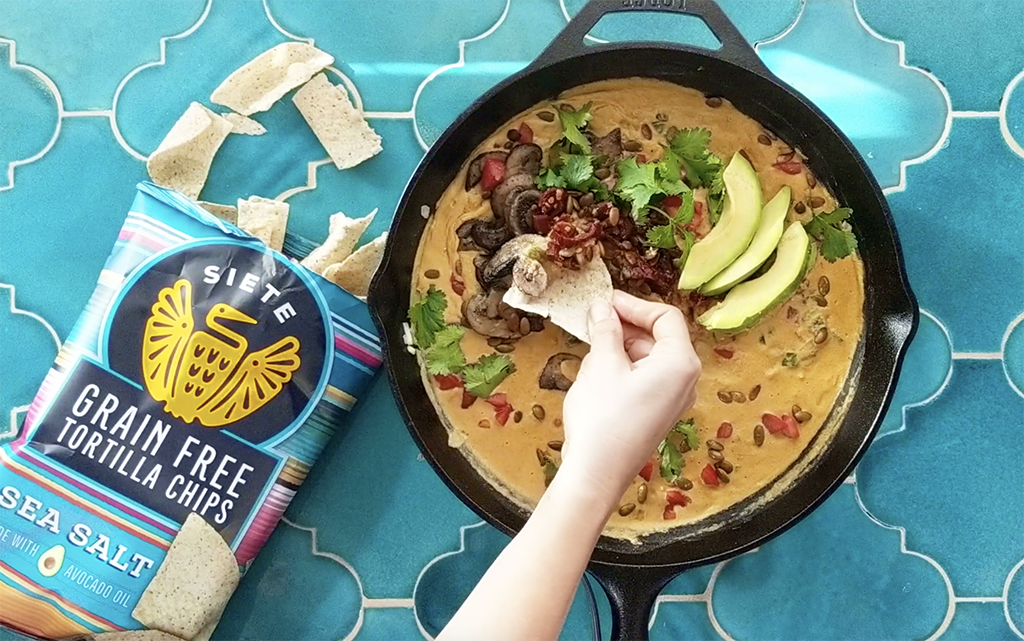 With this queso recipe from our friends at Siete®, you can still get in on the fun without dealing with the dairy. Now you can have your queso and eat it too. 
Prep time: 10 minutes
Cook time: 10 minutes
Servings: 20
Ingredients
2 jars Siete® Mild Nacho Cashew Queso
1/2 yellow onion, chopped
1 Roma tomato
1 jalapeño, seeded and chopped
3 cloves garlic, minced
1 teaspoon cumin
2 Tablespoons avocado oil
4 chipotle peppers in adobo, chopped
1/2 Cup mushrooms, chopped
1/4 Cup pumpkin seeds
1 avocado, sliced
Cilantro
Siete® Grain-Free Tortilla Chips for dipping!
Directions
1. Saute mushrooms in skillet for 5 minutes with a pinch of salt and pepper. Set aside.
2. Heat avocado oil at medium heat. Add onion, jalapeños, garlic, cumin, and a pinch of salt. Gently stir for 5 minutes.
3. Add 2 jars Siete® Mild Nacho Cashew Queso to the skillet. Stir mixture gently until the queso starts to bubble.
4. Remove from heat. Top off with mushrooms, chipotles, pumpkin seeds.
5. Serve with Siete® Grain-Free tortilla chips and enjoy!