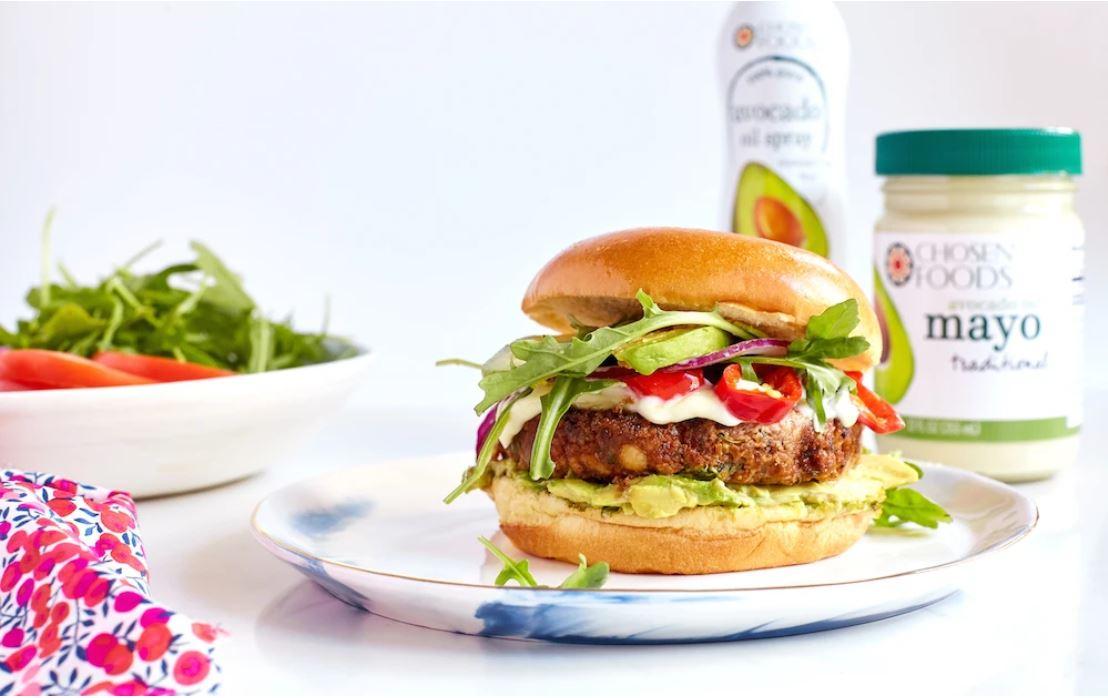 Kick off dinner with this savory, filling veggie burger recipe! This vegetarian, gluten-free burger features Chosen Foods Avocado Oil M

ayonnaise. 
Servings: 5 veggie patties
Prep time: 15 minutes
Cook time: 20 minutes 
Burger Ingredients:
hamburger buns of your choice
½
large red onion
(about 1 cup), chopped
5

garlic

cloves

, chopped
2

Tablespoons

ketchup
1 (8
oz.)
block tempeh, broken up
(1 cup cooked brown rice can substitute)
¼
cup
fresh basil leaves, or other fresh herbs such as cilantro or parsley
1

Tablespoon

lime juice
Topping Ingredients (choose your faves!):
mashed avocado
sliced red onion
arugula leaves
Directions:
1. To make the veggie patties, heat the avocado oil over medium heat.
2. Add the red onion and garlic, and cook, stirring occasionally, until translucent, about 8 minutes.
3. Add the tomato paste and ketchup, cook for 3 minutes, and set aside.
4. In a food processor, add the toasted nuts and pulse into fine crumbs.
5. Add the quinoa, tempeh, cooked tomato paste mixture, basil, lime juice, salt, and pepper to the machine and pulse until a thick and chunky mass forms. (The mixture should resemble a very smooth dough that holds together well when pinched.)
6. Add salt and pepper to taste.
7. Heat a grill to 450°F. Meanwhile, form the mixture into five ½ cup sized patties.
8. Place the patties on a sheet of tinfoil on the grill and spray each side generously with avocado oil spray.
9. Cover the grill, and cook for 3 minutes per side until the patties are firm enough to transfer from the foil and onto the grates of the grill for a final sear. Continue grilling for a few minutes longer until the patties are grill-marked on each side.
10. They should be evenly browned and crispy on the edges. Transfer to a plate and serve burgers with a generous spread of Chosen Foods Avocado Mayo along with desired toppings.