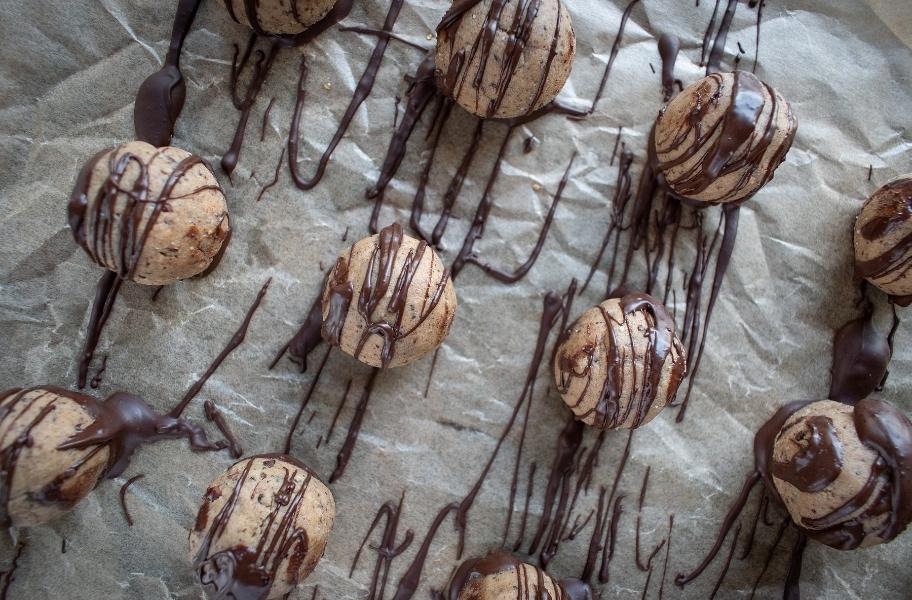 Join Nancy, Fruitful Yield Product Specialist, and kitchen savant for these delectable, snackable bites! Drizzled with chocolate, these little energy bites will power your day and satisfy your sweet tooth the natural way. Find her fun tutorial on our Instagram IGTV, and for more of Nancy's snackable goodies, check out her page too!
Ingredients:
1 ½ cup Medjool Dates
1 ½ cup NOW Almonds, Organic & Raw
1 cup Dried Berries Mix (cranberries, blueberries, cherries, golden raisins & mulberries)
½ cup NOW Coconut, Organic, Unsweetened & Shredded
1 tablespoon Vanilla Extract
1 tablespoon Maca Powder
1 teaspoon cinnamon
a pinch of sea salt
Chocolate Syrup Ingredients:
¼ cup Semi Sweet Vegan Chocolate Chips
2 Cacao Butter Wafers OR 1 tablespoon coconut oil
Directions:
1. Place almonds in a food processor and blend into a coarse, grainy consistency. It's fine if larger chunks are left behind.
2. Add the rest of the ingredients into the food processor except the medjool dates. Process until you have a grainy flour consistency. Add the dates and process until it forms a thick sticky dough.
3. Place chocolate chips and cacao butter or coconut oil into a ceramic bowl and microwave 2 minutes at a time until chocolate has melted into a spreadable syrup.
4. Form dough into small bite size balls OR press into a 7x7 inch square pan lined with wax paper. With wet fingers, tightly press the dough into the pan.
5. Then, drizzle over with your chocolate syrup. Refrigerate for 1-2 hours then cut into bars or bite size pieces and enjoy!