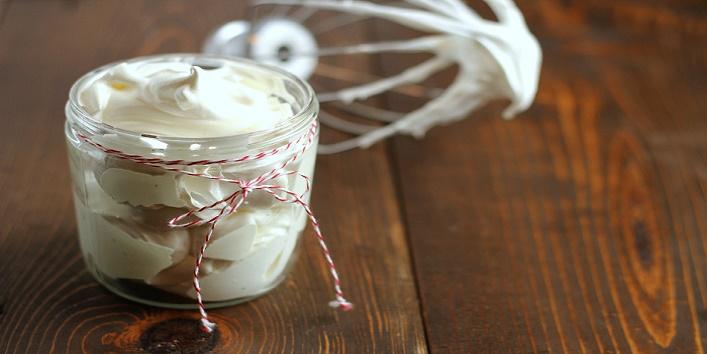 Got dry skin? Whip up this luxurious body butter. Delightfully scented and all natural, you'll want to lay it on thick!
Prep time: 5 min
Blend time: 5 min
Ingredients:
1 cup Shea Butter – NOW
½ cup plain Coconut Oil
40 drops Vanilla Essential Oil - NOW
10 drops Cinnamon Bark or Nutmeg Essential Oil - NOW
1 teaspoon Jojoba oil
Directions:
1. Blend ingredients in a bowl for 5 min, until completely and evenly blended. The texture should be soft and light.
2. Store in a mason jar.
3. Optional: Decorate outside of the jar with bands of washi tape, or spray paint, for a gift-ready concoction!
*Natural essential oils are highly concentrated and should be used with care. Do not exceed dilutions recommended for this recipe. For adults only. Keep out of reach of children. Not for internal use. Avoid contact with eyes. Consult a healthcare practitioner before using if pregnant/nursing. Not intended for use with pets. Patch-test finished product for allergies. Discontinue and consult your healthcare practitioner if a rash appears after skin contact.