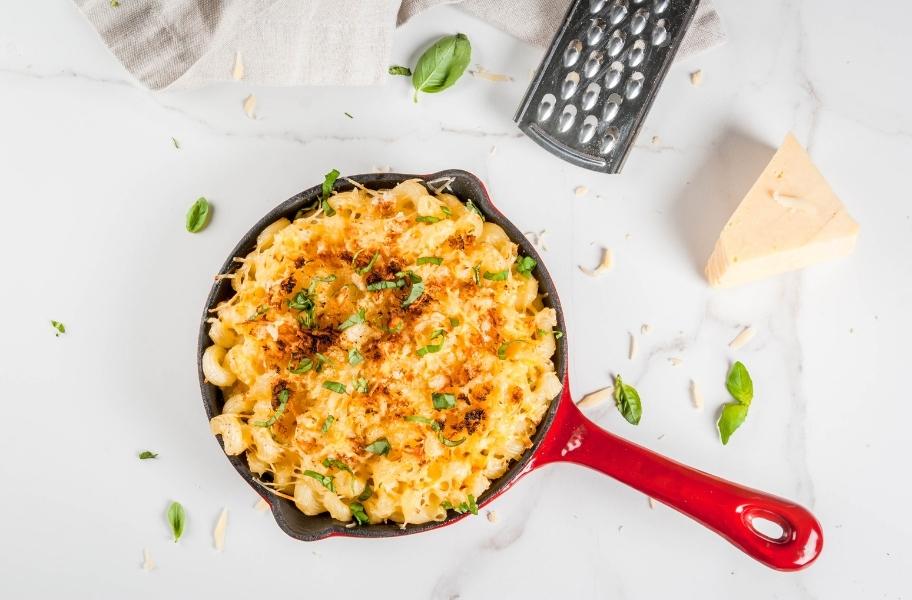 It's sometimes hard to get kids to eat more veggies, right? Our healthy friends at Kalona SuperNatural and Erica of Buttered Side Up have got the perfect recipe... Sneak the healthy nutrients of butternut squash in your child's favorite food: mac and cheese! Take it one step further by adding bacon.
In case you haven't heard, Kalona SuperNatural is non-homogenized with a delicious cream top, minimally processed, batch-pasteurized, certified organic/non-gmo, and is from small Amish and Mennonite family farms--to provide the highest quality dairy from pasture-raised cows. Find Kalona SuperNatural's better dairy products at a Fruitful Yield near you! 
Ingredients:
5 tablespoons Kalona Unsalted Butter, Pasture-Grazed
3/4 cup Kalona Organic Whole Milk
1/2 organic yellow onion
8 oz organic elbow macaroni pasta
4 oz organic sharp cheddar cheese
1/3 cup organic grated Parmesan cheese
1/3 cup butternut squash puree
Optional: organic parsley and bacon for topping
Directions:
1. Melt one tablespoon of butter in a medium saucepan over medium-low heat. Add the onions and cook until soft and turning brown, about 10-15 minutes. Remove to a plate.
2. Fill the now-empty pot 2/3 full with water and generously salt. Bring to a boil. Add the pasta and cook according to the package directions. Drain and return to pan.
3. Add the remaining ingredients. Cover and turn down to low heat. Let sit for 2 minutes.
4. Remove the lid and stir. Continue letting it sit covered and stir until it forms a smooth sauce.
5. Garnish with fresh parsley and bacon if desired. Serve immediately for biggest smiles!