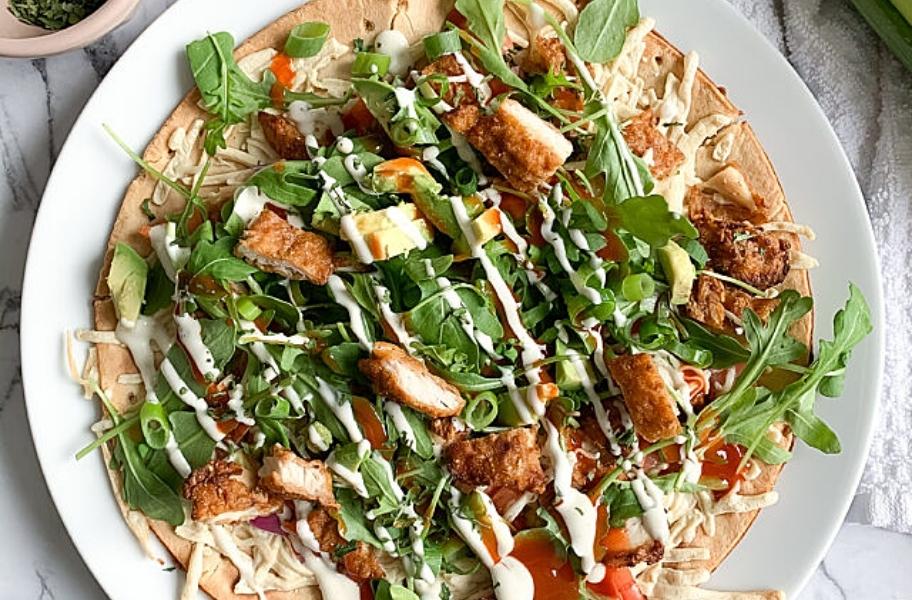 Aren't you head over heels for the perfect slice? We know we are, which is why we reached out to our healthy friends at CAULIPOWER, and their recipe contributor Kayla Cappiello (@therealkaylacappiello), for a genius recipe built upon a nutritious cauliflower crust. It's the perfect gluten-free, dairy-free BBQ Chicken Pizza for when your sick of your own cooking! Visit the frozen section of a Fruitful Yield near you for this crust, and more!
Ingredients:
1 CAULIPOWER Cauliflower Pizza Crust
1/2 cup chicken tenders
1 cup dairy free cheese shreds
2 tablespoons tomato, diced
2 tablespoons red onion, sliced
1/4 avocado, cubed
2 tablespoons scallions, thinly sliced
2 handfuls arugula, or leafy green of your choice!
2 tablespoons BBQ sauce
2 tablespoons dairy free ranch
Directions:
1. Preheat oven to 425 degrees.
2. Cook chicken tenders for 5-7 minutes. Remove from oven, and cut into cubes.
3. Remove CAULIPOWER Cauliflower Crust from freezer and top with cheese, chicken tenders, tomatoes, and red onion.
4. Cook pizza for 13-16 minutes.
5. Remove pizza from oven and top with arugula, avocado, scallions, ranch, and buffalo sauce. Slice, serve, and enjoy!