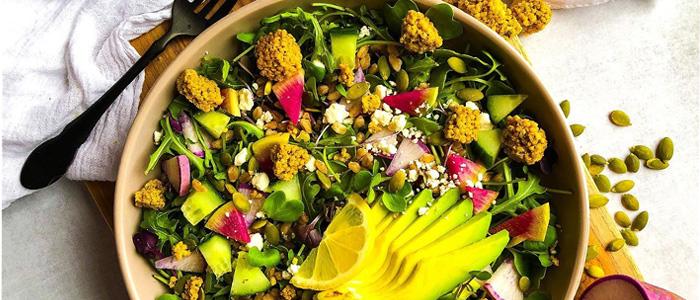 This gorgeous main-course salad tastes as delicious as is looks! It's packed with protein and fiber to fill you up, and is topped with Carrington Farms Organic Crounons (a healthy alternative to croutons), for a deliciously satisfying, gluten-free crunch!
Salad Ingredients:
4 cups arugula
1 cup microgreens
1/3 cup farro
½ cup watermelon radishes
¼ cup crumbled feta
1 cup chopped cucumber
½ avocado
1/3 cup pumpkin seeds
1 cup Carrington Farms Organic Garden Herb Crounons
Dressing Ingredients:
*You can either make this pesto fresh or buy premade*
1/4 cup walnuts
1 ½ cloves of garlic
2 ½ cups of basil
1 tsp salt
1 tsp black pepper
¾ cup olive oil
½ cup parmesan cheese
1 squeezed lemon
1 tbsp olive oil
Directions:
1. Wash the arugula and microgreens with water.
2. Cut up the watermelon radishes, cucumber, and avocado.
3. Mix together all the ingredients for the salad and toss to combine.
4. If you choose to make your own pesto, place the walnuts, pine nuts, garlic, basil, salt, pepper, olive oil, and cheese into a food processor and mix until combined. (If you choose to use a pre-made pesto, use ¼ cup.)
5. Add your lemon and olive oil and mix.
6. Mix your dressing into your salad and enjoy!