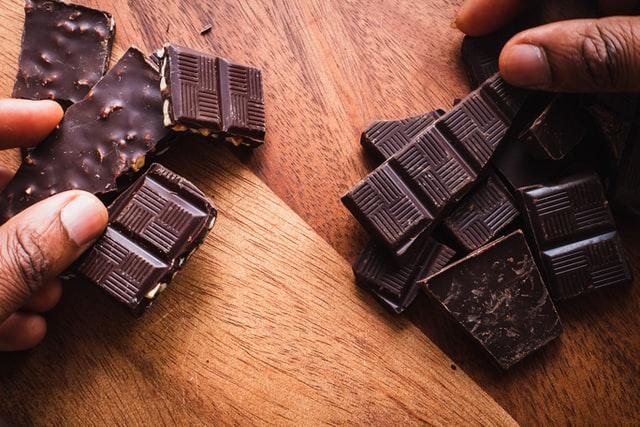 Celebrate a couple of our favorite days: Valentine's Day and Galentine's Day! Here at the Fruitful Yield, we'll take any excuse to snack on some decadent chocolate! Not only is it delicious, but did you know that dark chocolate is actually good for you? Chocolate with high levels of cacao contain a plethora of phytonutrients: plant properties that may help fight against oxidative cell stress. We suggest looking for a dark chocolate consisting of around 70% cacao or higher. To spread the word, we wanted to include some of our favorite dark chocolate picks!
Endangered Species Extreme Dark Chocolate Bites
Boasting 12 bite-sized, individually-wrapped pieces containing 88% cacao. This on-the-go chocolate is great for travel or to throw in your bag for an afternoon snack! Enjoy the bitter, full flavor bursting with antioxidant properties. Throw into oatmeal or a hot beverage for a boost of rich, creamy flavor. These mini chocolates are available in a variety of flavors including sea salt and almond! Ten percent of the companies net profits are donated to conservation organizations each year.
Hu Salty Dark Chocolate Bar
Savor the simplicity of this four-ingredient, organic chocolate bar. This is the perfect option for those seeking a salty and sweet treat. Vegan, paleo and gluten-free with no palm oil or refined sugars! Featuring organic fair-trade cocoa butter and recyclable packaging.
Alter Eco Superdark Truffles
Another portable option that we love! These creamy, decadent, wrapped truffle bites are great as a gift or to enjoy on your own. Each piece contains 88% cacao. Featuring a tasty mix of organic ingredients blended with coconut oil. Enjoy the exquisite flavor while reaping the antioxidant benefits. Furthermore, it's worth noting that each piece is Fair Trade Certified, and wrapped in plant-based, fully compostable packaging!
Lily's Dark Chocolate Peanut Butter Cups
A delicious, classic sweet treat without the unnecessary added sugar! Each serving consists of 70% cocoa, botanically sweetened with stevia. A perfect pairing of creamy peanut butter combined with an indulgent dark chocolate outer layer. In addition, the PB cups are non-GMO and Fair Trade Certified!
Enjoy Life Dark Chocolate Morsels
This one is for our baking enthusiasts! These 69% cacao chocolate chips are free of over thirteen common allergens! The dark chocolate is sustainably harvested and is both non-GMO and gluten-free certified. Perfect for baking cookies or breads, melting for recipes, or to eat right out of the bag!
Heavenly Organics Mint Chocolate Honey Patty
Resist temptation with these individually-wrapped, chocolate-covered honey patties. Featuring an organic blend of white honey and refreshing peppermint oil contained in a delicious dark chocolate shell. Dairy-free, soy-free, and contains no added sugars! Savor the luscious flavor without the guilt! 
Unreal Dark Chocolate Peanut Gems
Chocolate with a crunch! Taste the combination of velvety dark chocolate with a firm peanut center. These artificial-ingredient-free, vegan bites can be enjoyed by all chocolate lovers! Unreal Peanut Gems are non-GMO verified, and are naturally colored with vegetables. Great to throw in your bag or to share amongst friends!
We hope you have a great Valentine's Day! Visit our Chicagoland stores for the perfect treats to share with your friends and loved ones!