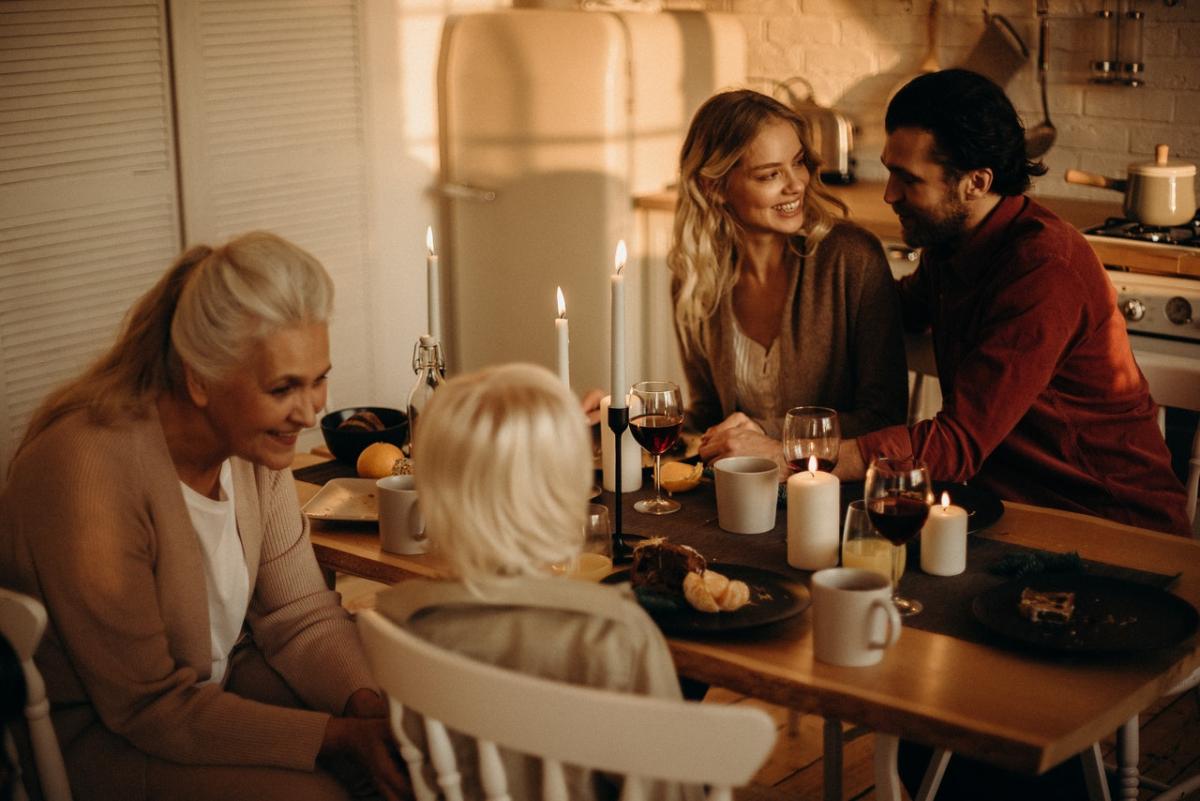 Get into the Thanksgiving spirit with healthy sides! Thanksgiving is a great time for reflection, family and delicious home cooking. This year, we're taking classic sides, and giving them a fresh twist with a couple of unexpected ingredients. With these recipes under your belt, you'll be more than prepared to serve up savory sides at your feast! They'll fill you up, but you can also smile knowing that they can be good for you too. 
Cauliflower Garlic Mashed "Potatoes"

Traditional mashed potatoes are a Thanksgiving classic, but don't sleep on its cauliflower counterpart! It's just as delicious, and even healthier than carb-heavy potatoes.
Servings: 6
Prep time: 10 minutes
Cook time: 15 minutes
Ingredients: 
1 head of cauliflower florets
1 teaspoon Simply Organic Garlic Powder
2 tablespoons of butter, or Organic Coconut Infusions™ Butter
1/4 cup cream cheese, or Kite Hill Vegan Cream Cheese (which is dairy-free!)
1/2 cup of grated Parmesan cheese, or Bragg Nutritional Yeast Seasoning
Salt & pepper to taste
Directions:
1. In a large pot, place a steamer insert inside. Add water to just below the steamer, and bring to a boil.
2. Add cauliflower florets to steamer basket and cover with a lid.
3. Steam for 10 minutes or until tender. Remove from heat.
4. Transfer half the steamed cauliflower to a food processor; cover and blend on high. Add remaining cauliflower florets, one at a time, until the consistency is creamy.
5. Blend in garlic powder, cream cheese, Parmesan cheese, salt, and black pepper. Serve while hot!
Charred Broccoli Parmesan
Get into the healthy groove with this garlic-y, cheesy side! You can never have too many greens, and this dish is one for the holiday table.
Servings: 3
Prep time: 5 minutes
Cook time: 12 minutes
Ingredients:
1/4 cup Ellyndale Extra Virgin Olive Oil, divided
3 cloves crushed garlic
1 head chopped broccoli florets (about 5 cups)
1-2 tablespoons water (if needed)
1/4 cup Parmesan cheese or Bragg Nutritional Yeast Seasoning
Salt & pepper to taste
Directions: 
1. Add half of the olive oil measurement to your pan, followed by crushed garlic. Saute while stirring occasionally until fragrant or lightly browned.
2. Then add chopped broccoli and remaining olive oil. Saute on medium heat, stirring occasionally, until desired softness and char. Add 1-2 tablespoons of water if the pan gets too dry. Note that you can poke with a fork to test softness!
3. Then add Parmesan cheese, or nutritional yeast if you want a vegan dish.
4. Lastly, add salt and pepper. Serve hot!
Harvest Quinoa Stuffing
Living a gluten-free lifestyle but looking for an alternative to traditional bread stuffing? You're in for a treat! Hearty quinoa pairs with caramelized onions, apricots and almonds for a savory stuffing with a hint of sweet citrus. Enjoy all the flavor without any of the gluten in this delicious side dish!
Servings: 8
Prep time: 15 minutes
Cook time: 30 minutes
Ingredients:
1/2 cup chopped raw almonds
2 cups Cadia Organic Low Sodium Vegetable Broth
1 sprig rosemary
1 cup diced organic dried apricots
1 cup organic whole grain quinoa
2 teaspoons Redmond Real Salt
1 Tablespoon orange juice
2 onions, chopped
1 Tablespoon organic virgin coconut oil
1 Tablespoon organic Sucanat cane sugar
Directions:
1. Toast almonds in a sauté pan over medium heat for 2 minutes. Set aside.
2. In a pot over high heat, combine vegetable broth, rosemary, apricots, quinoa, 1 teaspoon of salt, and orange juice.
3. Bring to a boil, then lower heat to a simmer for 10-15 minutes or until quinoa has absorbed all the liquid.
4. In a separate pan, sauté onions in coconut oil, Sucanat sugar, and remaining sea salt until onions are soft and golden brown.
5. Combine caramelized onions with cooked quinoa and serve warm. Garnish with additional toasted almonds and rosemary if desired.
Organic Garlic Potato Salad
 If you're looking for healthier options without sacrificing any of the flavor, then this organic garlic potato salad will fit the bill. Featuring naturally-flavored coconut oil, this simple but hearty side dish is sure to please all!
Ingredients
2 Cups organic fingerling potatoes, chopped and boiled
1 shallot, chopped
1/4 Cup Organic Coconut Infusions™, Garlic
1/4 Cup sour cream
1/4 Cup chives, chopped
1 teaspoon yellow mustard
1 teaspoon salt
1 teaspoon black pepper
Directions
1. In a small bowl, combine garlic-flavored coconut oil, sour cream, chives, mustard, salt and pepper.
2. Add cooked potatoes and shallots and toss evenly to coat.
3. Serve chilled with a dash of paprika and enjoy!
Keto Fall-Inspired Vanilla Cake
Last but not least, finish off Thanksgiving night with this simple, but delicious, keto cake for celebrating! Featuring a "new-to-our-stores" keto brand: the Keto and Co Vanilla Cake and Frosting Mix, with a few additions. Nutritious pumpkin and earthy fall spices give this dessert a holiday feel. This is a quick and delicious cake that anyone will enjoy!
Serves: 9
Prep Time: 10-15 minutes
Vanilla Cake Ingredients:
1 package Keto and Co Vanilla Cake mix
4 large eggs
6 tablespoons butter, melted
½ teaspoon apple cider vinegar
½ cup pumpkin puree
1 teaspoon cinnamon
1 teaspoon pumpkin pie spice
½ teaspoon nutmeg
Buttercream Frosting Ingredients:
1 package Keto and Co Buttercream Frosting Mix
1 tablespoon lemon juice
1 ½ cup butter, softened
1 tablespoon vanilla extract
¼ teaspoon salt
Directions for Vanilla Cake:
1. Preheat the oven to 350 F and grease an 8" baking pan.
2. Combine cake mix, eggs and butter in a bowl until smooth. Let sit for 30 seconds.
3. Mix in the apple cider vinegar.
4. Spread batter into baking pan and bake until lightly brown, about 25-30 minutes.
5. Cool completely before removing from the pan.
Directions for Buttercream Frosting:
1. Combine frosting mix with 5 tbsp water in a saucepan, stir until a thick paste forms.
2. Stir over low heat until the mixture becomes smooth and bubbles form on the edges.
3. Mix in lemon juice and let it rest until the mixture is room temperature.
4. In a separate bowl, combine butter, vanilla extract and salt with an electric mixer.
5. Slowly add in the frosting mixture and whip until smooth.
6. Smooth frosting over the vanilla cake and enjoy!
Do you have a favorite healthy dish for the holidays? Share it with us by uploading a photo to Instagram or Facebook and tagging @fruitfulyield. Or, tell us in the comments below!