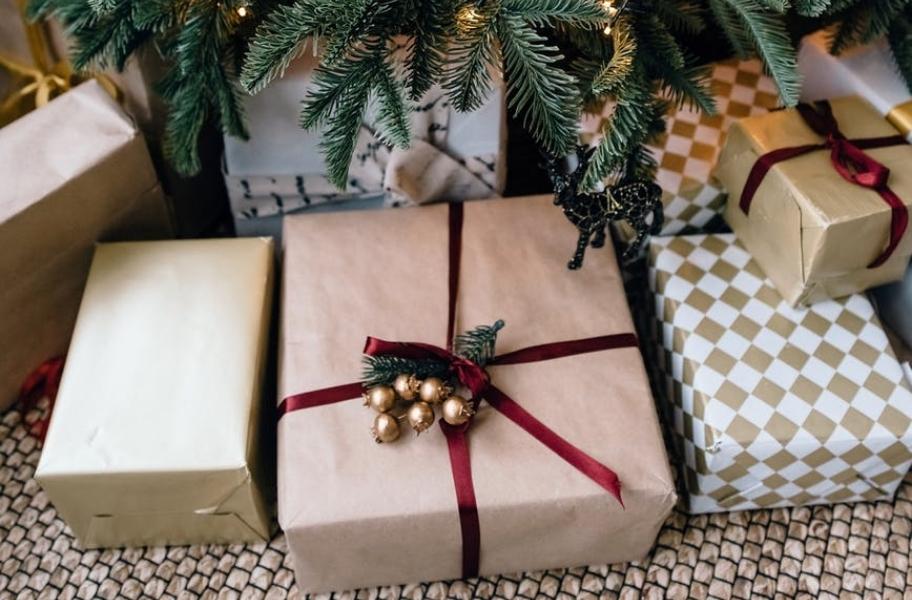 Gwenyth Paltrow's famous-yet-infamous website "goop" has made waves in the wellness community. While we can't get behind every single health claim she makes, we must admit her products hold a certain aesthetic bougieness that we just can't get enough of!
In honor of that, we're sharing our favorite products from Fruitful Yield that give off that same vibe. High quality, but accessible at a fraction of the price, all available online. (Select "curbside pickup" to ensure you get it before Christmas.)
Rosewater Froth Bombs for Self-Care
Bath bombs are always the perfect, relaxing stocking stuffer due to their cult following. These clean-ingredient bombs from Pacha also make your skin super soft to the touch. They're light and freshly scented, handcrafted with essential oils and epsom salt. They're the perfect way to complete your self-care ritual. This one is the trendy Pacha Rosewater Froth Bomb! We got one for each of our friends last year!
Golden Milk for Lattes & Health
Gaia Golden Milk steals the crown when it comes to turmeric drinks. If drunken regularly, golden milks may promote: healthy inflammation levels, cellular health, positive mood, brain health & more! Gaia's special blend includes organic turmeric, ashwagandha (an adaptogen) and dates for non-processed, natural sweetness.
Highlight of the Evening
"Where's that light coming from? Oh, that's just the light reflecting off my skin, dah-ling," You'll say with these high-powered Liquid Radiance highlighters. These highlighters from Gabriel are all of the glitz without the toxic ingredients and animal testing. They come in the colors Halo, Liquid Gold, and Rose Gold.
Mugs and Mugs of Mystic Moon Milk
Vital Proteins Blueberry Moon Milk Collagen Latte mix is great for the adventurous barista in your life. This is way more than your warm milk before bedtime; this is a collagen supplement with melatonin, GABA, and Magnesium to promote restful sleep. Collagen promotes youthful appearance, and bone and joint health, all while you sleep. Plus, it's coconut milk flavor, to ensure a tasty sip!
Aromatherapy On Your Wrist!
This Goddess Garden Organics Ambition Aromatherapy Bracelet is a functional beauty. It works like a diffuser for on-the-go aromatherapy. Goddess Garden states, "Calming howlite strengthens patience and positive character traits--promoting receptivity, action and motivation. The hummingbird symbolizes flexibility and adaptability." Now, we haven't tested these claims, but it's definitely pretty and definitely diffuses. Porous lava rock carries the scent. It also comes in blue and brown!
Go Blue to Soothe Sensitive Skin
No need to feel blue with Acure's Seriously Soothing Blue Tansy Oil, an antioxidant-rich face oil! Nourishing botanicals soothe and refresh thirsty skin. Use in place of a night cream for those seeking deep hydration and balance, for normal to sensitive skin.
Diffuse Stylishly, NOW
This minimalistic Ultrasonic Ceramic Stone Diffuser from NOW makes the perfect gift for friends and family. It's a must-have for any essential oil enthusiast, or for any recovering Febreeze addicts who need a clean swap. Our price point can't be beat for this ultrasonic, heat-free, vapor technology diffuser with automatic shutoff.
As an honorable mention, this travel-size Holiday Cheer Gift Case makes the perfect gift for your friend who's always on the go!
Peel for Professionally Beautiful Skin
Are you all about a smooth canvas? For supporting skin-cell turnover, we absolutely love this high quality MyChelle Perfect C PRO Speed Peel. This is a professional-level citrus fruit puree peel we're talking about! It delivers youthful, glowing skin in a one-step, one-minute, fast-acting formula.
Some Awesome 'Shrooms
Om Immune organic mushroom powder is the go-to way to support your Immune System. "Get your fight on" with Om's blend of seven unique species of organic mushrooms creating a synergy of immune benefits. Harness your natural defense with powerful beta glucans, digestive enzymes, fiber, prebiotics, antioxidants and other nutrients to keep your body battle ready. Add it to drinks, no-bake treats and more!
Care for the Ladies
This highly-rated product line is the natural way to promote vulvar health, moisture and pH, and reduce irritation. (We even heard a rumor that Khloe Kardashian is a fan!) Some simple, gynecologist-approved ingredients include avocado oil, honey propolis, and sea buckthorn oil. Without any added fragrances, naturally, it smells like honey! We'd recommend only getting this for the women you know really, really well... Or, gift it to yourself. Products include Feminine Wash, Intimate Skin Cream and On-the-Go Intimate Skin Balm.
We hope you like our goop-inspired ideas for giving this season! Let us know what's on your shopping list this season by tagging us on Facebook or Instagram @fruitfulyield!